Hi, my name is Kelsey. It's been almost two months since my last blog post…yikes. A lot has happened in that time but the biggest thing is that I finally feel like I'm finding my balance here in the city. In short, I just tried using my soul searching as an excuse for not writing…
Yikes. Ok. Here are my real excuses.
The first excuse is that I was searching for a new job. After lots of emails, a little pavement pounding, a handful of interviews, and an excruciating amount of training, I have landed at a restaurant that rhymes with Skittle Shark. In the handbook I was given in training, there is a whole clause about how employees are strictly FORBIDDEN from remarking on said establishment in any way on any social media platform so…hopefully this is vague enough to not get me written up and if not…
The second excuse is that I went on vacation with my significant other. At the end of April, boyfriend and I got on a plane and flew across the country for a long weekend in Portland, OR. Thank you once again to my lottery luck for winning me roundtrip tickets on my favorite airline, Southwest.
A couple nights before we left I was feeling a little more nervous about the trip then I had anticipated. Traveling together can be stressful but once we got there, we also had to share a single living space.
Christina Yang is messy so it's fine. 
For the record- I am not a dirty person. I prefer the terms "messy" or "scattered". Allow me to explain- basically, it's just really hard for me to keep all my clothes put away because I try on about 7 outfits before settling on what to wear for any given occasion. And I hate folding/hanging so I usually just toss the rejected articles of clothing onto my bed to be dealt with at a later time. I also leave out every hair appliance imaginable because I use them on a fairly regular basis. My laptop is always on my bed/home office and so is any topical (MT133 vocab #goblue) paperwork/sheet music/receipts/etc. Before anyone sees my room, I have some warning so I can make any necessary adjustments, which usually just involve throwing everything on the floor or in the closet or sometimes just in the trash. HOWEVER, I was going to have no such luxury while we were living in the same hotel room for 4 days so…*cue panic*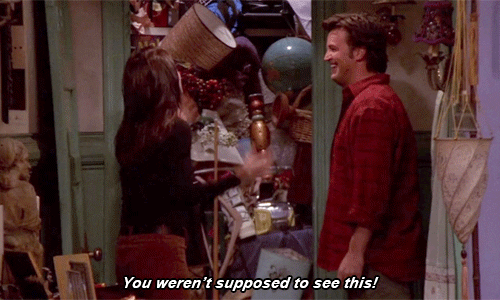 In case you were wondering how this issue resolved itself, we spent a good 5 minutes putting things away before we left the room every morning. Yes, we CLEANED UP before housekeeping came to clean up some more… It's not like we didn't have time because my dear, sweet boyfriend doesn't believe in sleep or acclimating to Pacific Standard Time so I found myself awake around 4am every single morning. 4 o'clock. In the morning. ON VACATION. ARE YOU KIDDING ME?!?!? We're still an item so he knew better than to actually make me get out of bed until I'd had a couple more hours of shut eye. I always thought I was a morning person but this just took it to a whole new level that I never want to be on. I learned on this trip that even if we ever moved in together (IF. Do not panic mom/dad/other boyfriends/relatives), we would need separate bedrooms.
I probably should write about the actual trip itself. Portland is beautiful. There are so many trees! I think that was one of the first thing I commented on as we were taking the train into downtown. Also, maybe it's because I was just intoxicated from breathing clean air.
I should have been eating only air since we've been back because while we were there, we ate like there was no tomorrow. So much good food. And every one believes in happy hour so you can get delicious bites for so cheap! It's truly an amazing place. 
I could go on and on about every little thing we did but here are the highlights.
Private tasting at Antica Terra with the amazing Carrie
Thompson, who happens to love Savart as much as I do.
– Wine tasting in Willamette. Boyfriend had planned a whole day for us in wine country and I was almost as excited for myself as I was for him. There is a joy that comes in seeing someone you love light up because they're so excited and passionate about what they're talking about. It was like this all day. On a much less romantic note, there were my first tasting where I had to spit. All the tastings we go to in New York (regardless of the hour they occur), I never spit because it's disgusting and I like wine. However, that wasn't an option here because I was driving all day (boyfriend doesn't even have a license). Just know that by the end of tour in Willamette, I had spit more than I ever had in my entire life up until that point. Anyway, most of the wine talk was over my head but it was a big step in my continuing education. And it's always inspiring to spend time with people who are so passionate about what they do.
– 
Nomad PDX. 
This was the best meal I've ever been out to in my life. The restaurant was still just a pop up in the loft above a cocktail bar. You walk in and there are three or four long stone tables with chairs set up for the reservations that evening. There are never more than maybe 10 people sitting for dinner here at once.  It's intimate and exciting because no matter how much you read about this place, you're still not fully prepared for what's about to happen.  Cheesy anecdote. Boyfriend surprised me with a beautiful bottle of Savart "L'Année" (note: Savart is my favorite champagne producer and champagne is my favorite so this bottle is my favorite of my favorite). Each course was edible art and on the menu under each food item was an awesome quote that related to the dish in some capacity. I'd been pretty good of snapping pictures of the food but this meal was so overwhelming I only got a few shots along the way. We were still reeling in amazement when we woke up and studied the menu the next morning trying to recount every bite. Note: Premier League soccer playing (on mute) in the background, which brings me perfectly to my next highlight.
–
Soccer, bubbles, and a baby.
Way before we had anything planned on this trip, boyfriend had bought tickets to a soccer game. He had texted me about it, I feigned excitement and we went about our daily lives. All my life I thought those dramatizations of the girl dating a sports fanatic were…dramatic. And while they still may be dramatic, they are in fact based in truth. The day of the soccer game came. It was the morning after Nomad PDX so we were both a little slow moving. Boyfriend was up and running at an insanely early hour as per usual. By the time I fully opened my eyes there was
another
bottle of Savart on my nightstand. Perfect. So, we headed out for a
very
 early brunch and by 11:30am, we were in line outside of Providence Park, home of the Portland Timbers. Little did I know, we were there 2 HOURS before the game started
just
to get seats! Sensing my dismay, boyfriend responds with, "You got champagne. No whining about soccer." We now have a standing policy- whenever there is a bottle of an unexpected bottle of champagne brought into the equation, there is some kind of sporting event in our future. Anyhow, it was pretty exciting to be in a stadium full of Timbers fanatics acting like we fit in. We learned all the cheers on the spot and as luck would have it, there was the most adorable little Timbers fan directly in front of us to keep me amused. But honestly, the game was a lot of fun. Boyfriend still shakes his head when I talk about the cutest little Timber there ever was.
So, that was Portland in a very extended nutshell…
On to the next excuse. Oh yea, I wasn't finished yet.
The third and possibly last excuse is Maize and Blue on Broadway.  As everyone who's ever crossed paths with me knows, I love the University of Michigan more than most things in this world. So given that, I was beyond ecstatic when I checked my voicemail after a particularly horrendous brunch shift and had a message from Gavin Creel asking me to give him a call about being involved as a performer in this special performance, which would honor the retiring founder and chair of our department, Brent Wagner. Take a peek at the sizzle reel for a better idea of the magic we all got to be a part of in the August Wilson that evening.
But beyond what happened on stage, as spectacular and incredible as it was, the moments that brought us to that point were the ones that I loved even more- the hours of rehearsals, the lunch breaks, the run through, the after party… I got to see people who I haven't seen in months or years even in some cases. I also met people who I had never met before but could immediately call friends. It was a little weird meeting the young adults who were current students that I had never known…It's the only time in my life so far I'll actually admit to feeling old. Those few days were
filled
with moments where I was reminded that theatre is what I love and what I want to do. It's fun, it's heartfelt, it's collaborative, it's spontaneous, it's inspiring- it's all the qualities I want in my life wrapped into one amazing art form. It will make you laugh and cry and it will bring together the most amazing people. And those are just a few of the reasons. 
It's so cliche but I came here to follow a dream. These past few months have been wonderful in helping me get grounded and now I'm ready to work for what actually matters to me. Everything happens for a reason- every choice, every setback. I've been telling myself that for so long and now I'm starting to see how it all is falling into place. I am exactly where I was meant to be. 
Things are finally in balance. 
But I'm seeing the Beyoncé world tour in 8 days so I'm ready to have my world rocked.